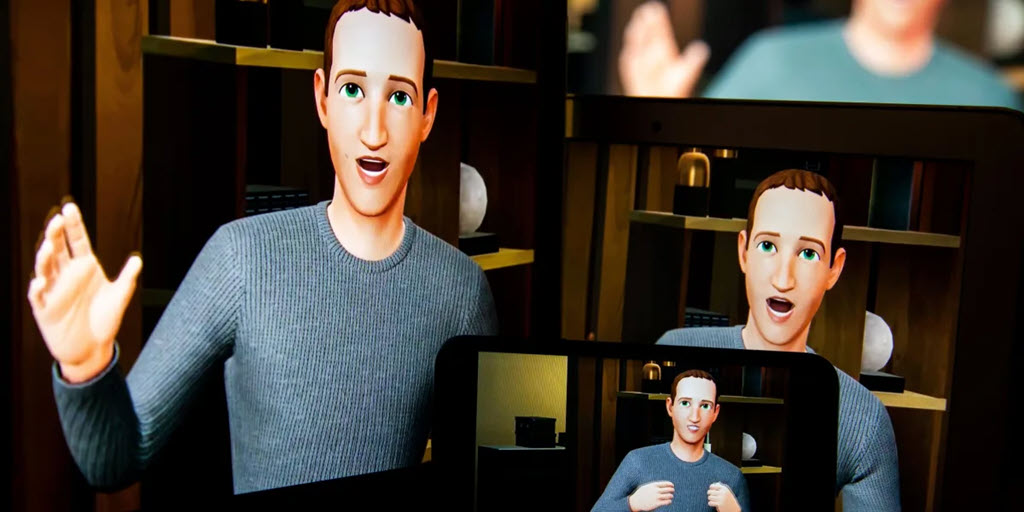 You're convinced Mark Zuckerberg will fail, right?
A little more than a year ago Zuckerberg renamed Facebook to "Meta." He is investing billions of dollars in virtual reality and augmented reality devices with very little short-term profit potential. Meta's VR products have been widely panned – the Quest Pro VR headset is criticized for being too expensive; Horizon Worlds, Meta's VR social networking platform, is underbaked and underpopulated. The stock market has viciously punished Meta; in its first year after the Meta rebranding, the company's market value plummeted more than half a trillion dollars.
Zuckerberg might not succeed. He is personally disliked. Facebook continually mishandles user privacy and is fumbling the move into the era of content moderation. Our culture in 2023 is built on the spectacle of destruction and a lot of forces are trying to tear Meta apart. Zuckerberg is swinging for the fences. His bet may fail.
But he's doing the right thing – and he could succeed if he gets enough time.
There are two things that you don't know.
The first is that the metaverse investment has little to do with Meta's financial woes. Facebook – the social networking site, the feed where you see baby pictures – is on the decline. Ad revenues are on the way down, unlikely to recover. If Zuckerberg had done nothing, the stock market would have punished Facebook anyway during the next few years as it became irrelevant. You know how a reference to "MySpace" is an easy laugh today? Facebook is attempting a difficult pivot to VR/AR to avoid the same fate.
The second is that there is a very real possibility that a new social network with VR or AR components will emerge to claim the hearts and wallets of huge numbers of users around the globe. Meta is fighting to create the hardware and software to bring that network to life. It will either succeed and overcome everyone's skepticism, or at worst other companies will benefit from Meta's work on the technology, the hardware, the user interface, and the other elements of AR and VR.
The metaverse pivot did not cause Facebook's decline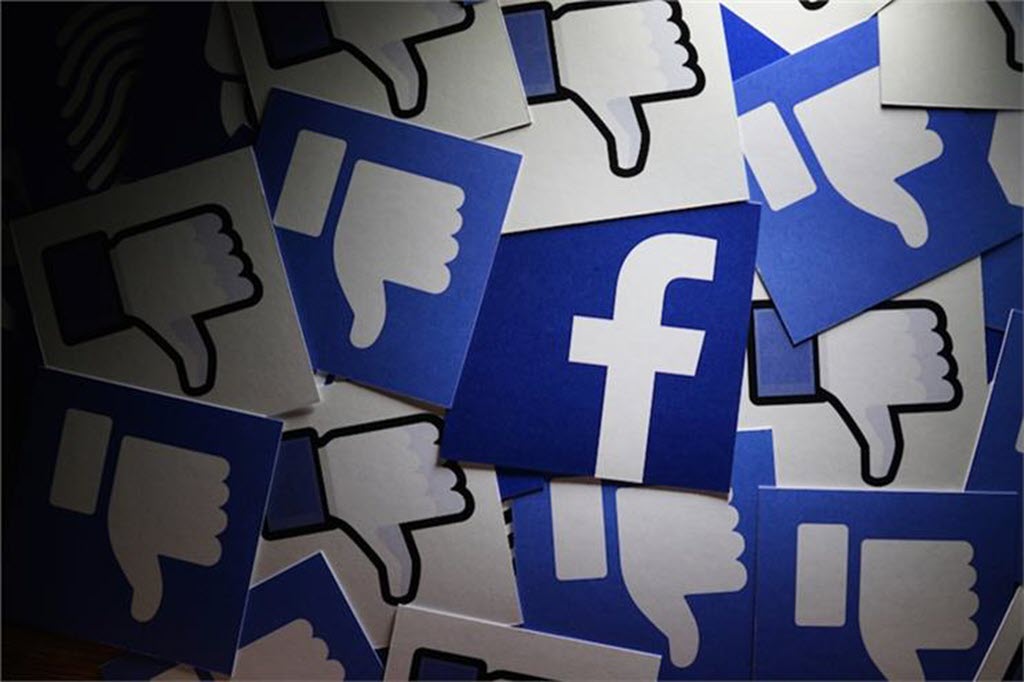 Our world thrives on memes. Journalists and too many people in the restless online communities find a hook and write about it obsessively. For a few terrible weeks, it was impossible to escape stories about Elon Musk's idiocy. This week it's Prince Harry's memoirs.
In 2022 there were thousands of stories about Mark Zuckerberg's poor judgment about VR and AR. It became common knowledge that his vision of the metaverse is foolish, that the focus on VR and AR is going to cause the company to fail, and that his terrible avatar publicity shot was the kiss of death for virtual reality. (Yeah, that last one has a lot of truth to it. The avatar photo was truly damaging.)
Things that are repeated often enough begin to seem true. Perhaps Zuckerberg will be forced out of the CEO role and Meta will collapse into a smaller, less influential company. We have many recent examples of companies raised up and down by memes and online jokers.
But behind the scenes, in the world of financial analysts, the metaverse investment is not the problem. The problem is what you see in these Google search results.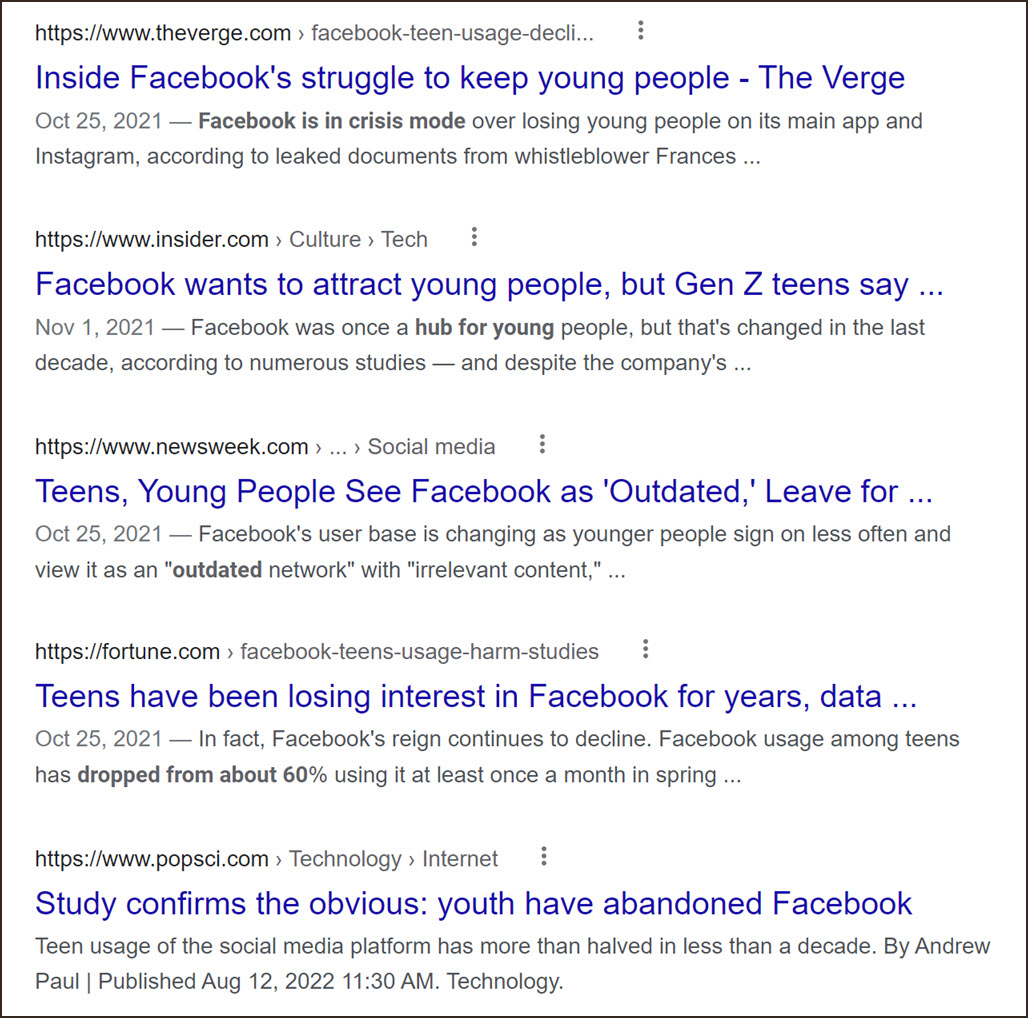 Facebook has known for years that its user base is aging. Engagement by people under 30 is on the decline worldwide. It is on the verge of losing an entire generation. The company first became aware of the problem ten years ago. The migration away from Facebook has accelerated sharply in recent years as new social networks have attracted young users. Instagram still has a slowly growing user base but it is beginning to deal with the same headwinds; TikTok is a juggernaut with teens and young adults and Snapchat's numbers are increasing.
Young people are fickle. Social apps come and go. Facebook will market and innovate and press forward, because that's what big companies do. But it is unlikely to recover ground and become cool again.
It's not quite the same but it's instructive to remember the days when Microsoft was cool. People lined up outside stores to buy the latest version of Windows. Over the years Apple seized the reins and became the Cool Company and Microsoft lost its appeal to consumers. Microsoft still markets Windows to consumers and bravely pretends that ordinary people will use a family version of Teams, but there are no illusions in Microsoft's corporate offices. Behind the scenes, Microsoft remade itself into an enterprise company with a pivot that will be studied in business schools.
Facebook is attempting to pivot the company as its only way to address long-term problems in its core businesses.
In February 2022 Facebook's daily active users dropped for the first time. It was felt like a shockwave in the company and the stock market.
In July 2022, Facebook reported the first revenue decline in its history, both from declining ad spending overall and increased competition for ads from TikTok.
Privacy changes by Apple made it harder for companies to track users for advertising purposes. Forbes reported that Apple's changes alone cost Facebook around $10 billion in ad revenue.
In October Facebook reported another weak revenue report stemming from reduced numbers of users, slowing global economic growth, the revenue decline from Apple's privacy changes, competition from TikTok, and the threat of regulation. Angry investors, amplified by the media, were quick to blame the increased spending on the metaverse as the real problem.
It's true that the metaverse investments don't help the bottom line; they are risky and at best will not pay off for a decade. But the metaverse spending is a pivot, an attempt to avoid the effects of deep structural problems in the company's core businesses.
The metaverse spending, the AR and VR hardware and software – those things are an opportunity, not a failure.
In the next article I'll tell you about a couple of services you've never heard of and I'll give you a statistic that will make you spit out your coffee and swallow your gum and say, "By golly, I understand the dream that Mark Zuckerberg is chasing." Who knows? Maybe you'll agree with me that he's right about the metaverse.